Product Description
SWL series skillful manufacture screw reducer: 
1.Convenient to adjust
2.Wide range of ratio
3.Easy to install
4.high torque
Application Industries:
Our SWL series screw jacks are widely used in the industries such as metallurgy,mining,hoisting and transportation, electrical power,energy source,constrction and building material,light industry and traffice industry
 
Product Parameters
Type

Model

Screw thread size

Max
lifting strength
kN

Max
pull force
kN

Weight without stroke
kg

Screw weight
per 100mm

SWL

Screw jack

SWL2.5

Tr30*6

25

25

7.3

0.45

SWL5

Tr40*7

50

50

16.2

0.82

SWL10/15

Tr58*12

100/150

99

25

1.67

SWL20

Tr65*12

200

166

36

2.15

SWL25

Tr90*16

250

250

70.5

4.15

SWL35

Tr100*18

350

350

87

5.20

SWL50

Tr120*20

500

500

420

7.45

SWL100

Tr160*23

1000

1000

1571

13.6

SWL120

Tr180*25

1200

1200

1350

17.3
1.Compact structure,Small size.Easy mounting,varied types.  Can be applied in 1 unit or multiple units.
2.High reliability.Long service life; With the function of   ascending,descending,thrusting,overturning
3.Wide motivity.It can be drived by  electrical motor and manual force.
4.It is usually used in low speed situation,widely used in the fields of
metallurgy,mechanical,construction,chemical,irrigation works,mediat treatment.
Detailed Photos
PRODUCT SPECIFICATIONS
SWL Series
Swl series worm screw lift is a kind of basic lifting component, which can lift, lower, propel, turn and other functions through the worm drive screw.
Screw jack can be widely used in machinery, metallurgy, construction, chemical, medical, cultural and health, and other industries. Can according to a certain procedure to accurately control the adjustment of the height of ascension or propulsion, can be directly driven by motor or other power, can also be manually. This series of worm screw lift can be self-locking, with the bearing capacity ranging from 2.5 tons to 120 tons, the maximum input speed of 1500 r/min, and the max lifting speed of 2.7 m/min.
Features:
1. Suitable for heavy load, low speed and low frequency;
2. Main components: precision trapezoid screw pair and high precision worm gear pair.
3. Compact design, small volume, light weight, wide drive sources, low noise, easy operation, convenient
maintenance.
4. The trapezoid screw has self-locking function, it can hold up load without braking device when screw stops traveling.
5. The lifting height can be adjusted according to customer requirements.
6. Widely applied in industries such as machinery, metellurgy, construction and hydraulic equipment.
7. Top End: top plate, clevis end, threaded end, plain end, forked head and rod end.
| | | | | |
| --- | --- | --- | --- | --- |
| 1. screw rod | 2. nut bolt | 3. cover | 4.Skeleton oil seal | 5.Bearing |
| 6.Worm gear | 7.Oil filling hole | 8.Case | 9.Skeleton oil seal | 10.Cover |
| 11. nut bolt | 12.Bearing | 13.Skeleton oil seal | 14.Bearing | 15.worm |
| 16.Flat key | 17.Bearing | 18.Skeleton oil seal | 19.Cover | 20.Nut bolt |
Product Description
MODEL

 

SWL2.5

SWL5

SWL10

SWL15

SWL20

SWL25

SWL35

Maximum lifting force (kN)

 

25

50

100

150

200

250

350

Screw thread size

 

Tr30*6

Tr40*7

Tr58*12

Tr58*12

Tr65*12

Tr90*16

Tr100*20

Maximum tension (kN)

 

25

50

99

166

250

350

Worm gear ratio (mm)

P

1/6

1/8

3/23

1/8

3/32

3/32

 

M

1/24

1/24

1/24

1/24

1/32

1/32

Worm non rotating stroke (mm)

P

1.0

0.875

1.565

1.56

1.5

1.875

M

0.250

0.292

0.5

0.5

0.5

0.625

Maximum elongation of screw rod under tensile load (mm)

 

1500

2000

2500

3000

3500

4000

Maximum lifting height at maximum pressure load (mm)

The head of the screw rod is not guided

250

385

500

400

490

850

820

Lead screw head guide

400

770

1000

800

980

1700

1640

Worm torque at full load(N.m)

P

18

39.5

119

179

240

366

464

M

8.86

19.8

60

90

122

217

253

efficiency(%)

P

22

23

20.5

 

19.5

16

18

M

11

11.5

13

 

12.8

9

11

Weight without stroke(kg)

 

7.3

16.2

25

 

36

70.5

87

Weight of screw rod per 100mm(kg)

 

0.45

0.82

1.67

 

2.15

4.15

5.20
SWL Worm Gear Screw Jack Mounting Dimensions
| | |
| --- | --- |
| Standard or Nonstandard: | Nonstandard |
| Application: | Textile Machinery, Garment Machinery, Conveyer Equipment, Electric Cars, Motorcycle, Food Machinery, Marine, Mining Equipment, Agricultural Machinery, Car, Power Transmission |
| Customized Support: | OEM, ODM, Obm |
| Brand Name: | Beiji or Customized |
| Certificate: | ISO9001:2008 |
| Structures: | Worm Gear and Worm |
Samples:

US$ 50/Piece

1 Piece(Min.Order)

|
Request Sample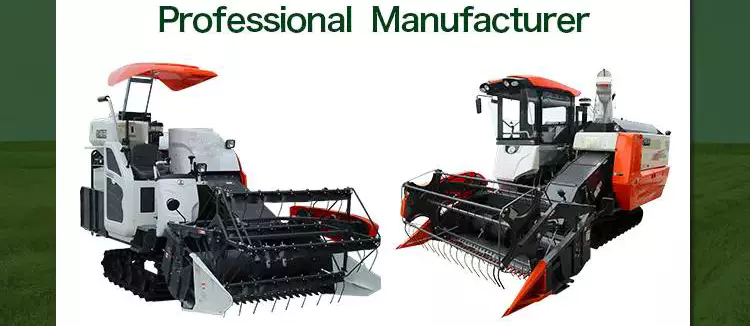 Benefits of Using a High-Quality Agricultural Gearbox
If you are in the market for an agricultural gearbox, then you should keep a few things in mind. A high-quality agricultural gearbox will have innovative technology and features to make your life easier. Despite all these features, you should not compromise on the ease of use. Before buying any agricultural gearbox, make sure that you are familiar with its features and functions. Read on to learn more. This article will help you choose the perfect gearbox for your specific needs.
Bevel gearboxes
Agricultural gearboxes play a vital role in the production of food. If they do not work properly, the demand for food will rise significantly, causing costly downtime and a failure to meet production goals. In addition, the gears can be worn out and cause significant losses for farmers. In such cases, high-quality gearboxes are essential for the production of food. Here are some benefits of using a high-quality bevel gearbox for agricultural applications:
Bevel gearboxes feature enclosed spiral or straight bevel gears to transmit rotational power to the drive shaft. Bevel gear drives are available in various horsepower capacities and ratios, and they can be installed at different angles. For example, CZPT Gearbox offers bevel gear drives whose bevel angles can reach 68 degrees for grain carts and 50 degrees for portable grain augers. These are suitable for agricultural machinery applications such as combines, tractors, and grain carts.
Premium Bevel gearboxes are available in many sizes, and are a cost-effective way to replace worn-out gears. Premium gearmotors are designed with a low backlash and are quiet while transferring power. The bevel gears are crafted from hardened stainless steel and feature non-magnetic shafts. Agricultural gearboxes are available in many types, and you can buy one that matches the exact specifications of your machinery.
A wide variety of applications for bevel gearboxes in agricultural machinery is important. Most implements and tractors have PTOs, which transmit high torque but only at slower speeds than standard 540 or 1000 rpm. A bevel gearbox is needed for these high-demand situations. They are not only used in agriculture, but are also used in wheel drives and massive torque low-speed applications.
Closed-loop seals
The installation of closed-loop seals in agricultural gearboxes has a number of advantages. For one thing, they isolate the gearbox from the atmosphere, which is essential for the safety of the equipment. A desiccant breather is not enough to protect the gearbox from water damage; closed-loop seals prevent water from entering the gearbox. In fact, a closed-loop elastomeric seal can prevent up to 90% of leakage.
The CZPT gearbox is available on the entire line of CZPT irrigation systems. It is designed to turn with the drive shaft, and it places seal lips inside a cavity filled with a high-temperature grease, which minimizes the possibility of dislocation. In addition, the CZPT gearbox features a sealed housing surrounded by an eight-year warranty. It is also compatible with mobile irrigation systems.
An agricultural gearbox is vital for the whole food chain, from the fields to the table. Even a small amount of downtime can affect production. It's important to invest in a gearbox that won't break down easily. A well-designed agricultural gearbox will last for decades and should be easy to access for maintenance. The following factors are important to consider when purchasing a gearbox.
A positive gear ratio in an agricultural gearbox is a prerequisite for smooth operation. In addition, closed-loop seals in agricultural gearboxes will prevent the wheels from slipping and provide a positive gear ratio. Another crucial component of an agricultural gearbox is a locking differential. This system helps to prevent the wheels from slipping, even in high-dust environments. The ZHEJIANG HONGYE AGRICULTURAL EQUIPMENT CO.,LTD company is a renowned manufacturer of agricultural gearboxes in China and has a pan-India presence. The company has been in the industry for over 15 years, and their products are renowned for their durability and performance.
Robustness
Robustness of agricultural gearbox is important for the agricultural industry. Low-speed equipment is prone to mechanical overload under demanding operating conditions, which can cause premature component wear and reduce equipment longevity. Especially susceptible are components that are belt-driven, chain-driven, or fan-driven. Proper installation of system components will extend the life of these heavy-duty machines and reduce the risk of costly downtime. To improve efficiency and productivity, agricultural gearboxes are used in these systems.
Agricultural gearboxes are used in machinery in remote and outdoor locations. They must be resilient to the various harsh conditions they face, including frequent washing down and constant moisture. They must also operate near-constantly, particularly during harvest time. Agricultural gearboxes must also be hygienic and reliable, ensuring that they serve their purpose without any complications. As a result, they must be robust and reliable.
Modern industrial activity seeks efficiency gains and reduced weight. The ruggedness of agricultural gearboxes has increased significantly over the past few decades. However, this efficiency is accompanied by an increased need for robust protection and increased energy efficiency. Synthetic base stocks can provide CZPT protection for all gearboxes and extend drain intervals. However, high maintenance costs and the impact of the COVID-19 pandemic may impede growth.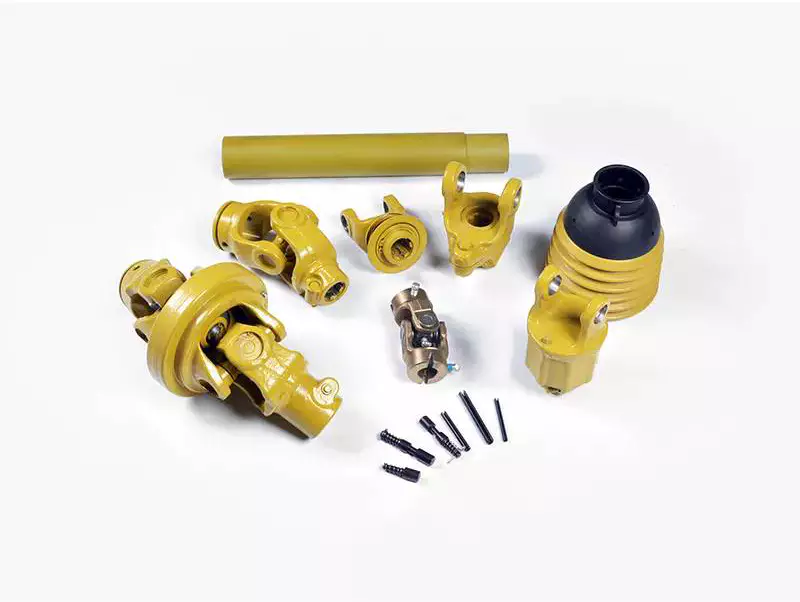 Durability
Agricultural gearboxes play a major role in the production of food and are essential in the entire process. With the increasing population and increasing need for food, crop cycles will get shorter and heavier, and the impact on gearboxes will only grow. As a result, farmers will need more quality replacement gearboxes to ensure the productivity of their operations. So, what makes an agricultural gearbox durable? Here are some important factors to consider when purchasing a quality unit.
Agricultural PTO gearboxes can be dual or single shaft models. Dual-shaft designs divert the power of the engine to an additional output shaft, while axle-facing designs mount between the engine and transmission and receive drive directly from the engine shaft. In this latter design, full engine power is transferred to the PTO, but the driveline needs to be modified to accommodate the additional output shaft. This means that the optimum gearbox size should be chosen depending on the use of the machine.
The transmission operating parameters of 44 tractors were tracked over a year. Different failure modes were identified, the load amplitude was calculated for each component, and the frequency of failure was calculated. In addition, a severe-damage profile was estimated from statistical analysis. Finally, the accelerated test schedule was determined by using an optimisation technique. It was set up to maximize the torque applied to each component. In addition to the transmission's overall durability, the gear tooth breakage was also observed.
A durable agricultural PTO gearbox is an essential tractor component. CZPT Gearbox Company manufactures high-performance gear drives. They can reverse engineer an existing design or create a custom agricultural gearbox based on your specifications. Agricultural PTO gearboxes have many advantages over their manual counterparts. They allow a tractor to operate at the appropriate speed and torque without compromising the tractor's performance. They can also reduce the output speed, allowing the machine to maintain the proper speed.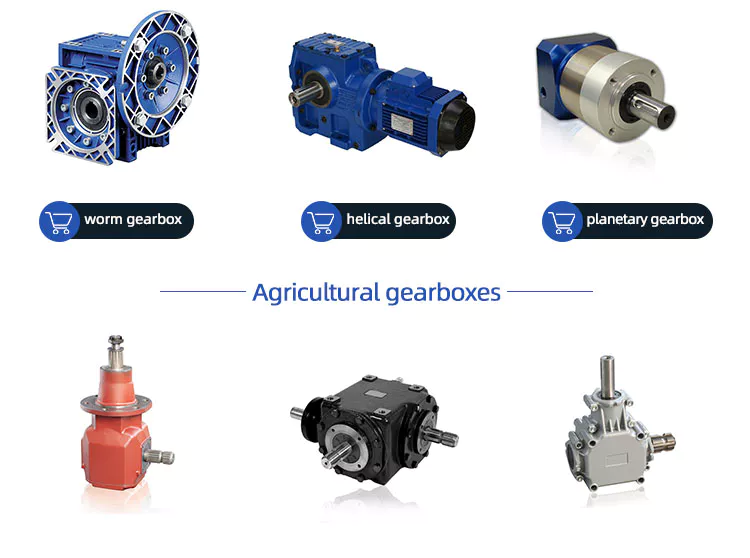 Cost
For optimum performance and reduced costs, a high-quality agricultural gearbox can help farmers make the most of their machines. An agricultural gearbox transmits power from the input shaft to the output shaft, facilitating changes in speed, direction, and rotation. The CZPT Gearbox Company is a leading manufacturer of high-performance agricultural gearboxes. Aside from offering a variety of standard gearboxes, engineers can custom-design and manufacture a gearbox for your specific needs.
With the CZPT marketplace, buyers from other countries can find a reliable, competitively priced Indian Agriculture Gearbox supplier. When selecting a supplier, buyers consider a range of factors, such as value for money, reliability, and past trade history. Agriculture Gearbox suppliers in India can be found in all major cities and states across the country. By choosing a distributor in India based on price and service quality, you can ensure your purchase will be of the highest quality and least costly.
While choosing an agricultural gearbox, look for one that is built to last. The functionality, mechanism, and materials of the device are all factors in determining how long a gearbox will work. Choose a long-lasting option so you won't have to purchase a replacement for it every few years. Also, look for a low-maintenance option. A low-maintenance gearbox will save you money over time.
While it is possible to rebuild a gearbox on your own, it's best to find a company that rebuilds gearboxes and parts. CZPT in New York will estimate the cost of rebuilding a gearbox for you. If you're not sure how much it will cost to rebuild your agricultural gearbox, they'll be happy to help you make a decision based on the details of your specific needs.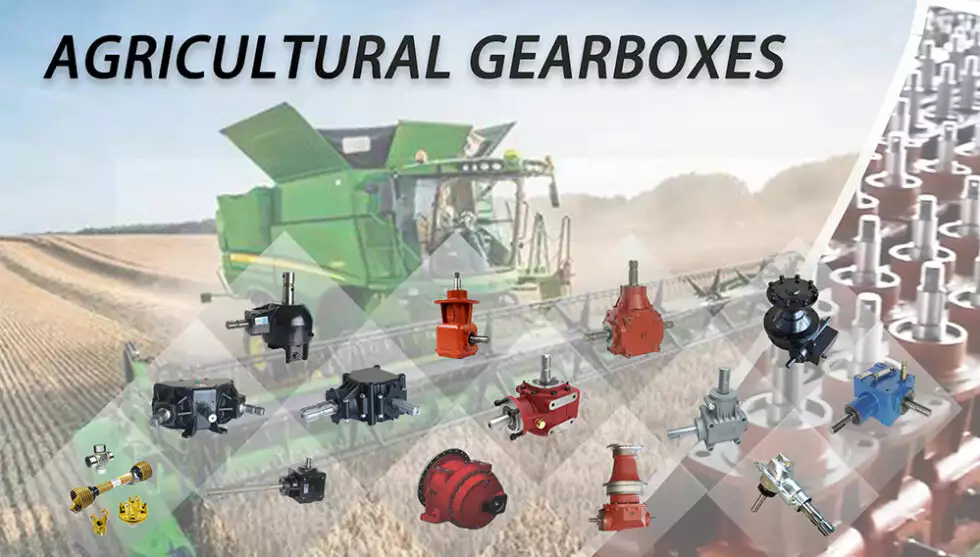 editor by CX 2023-06-06